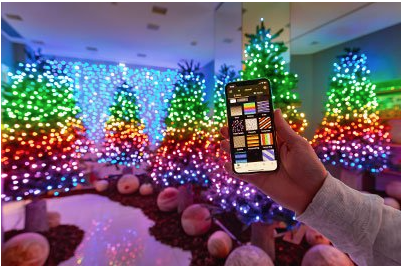 Can Twinkly be extended?
Virtually they can be joined thanks to the app. (Up to 10 Twinkly Controllers and must be the same light type RGB or RGBW)
How many LEDs do I need to decorate my Christmas tree?
We suggest between 100-120 bulbs per foot. (Height of the Tree)
Can I group twinkly gen 1 and gen 2?
Yes, you can group together using the Twinkly App. Must be the same light type (RGB or RGBW).
Can I use Twinkly without Wi-Fi or internet access?
Yes, twinkly will work as a stand-alone product or in communication with your smartphone via the Direct Connect Option during Setup.
Does not work if you have more than one strand that you want to communicate in a group.
Will one Twinkly music dongle work with a large group of Twinkly lights?
Yes, if the lights are on the same network as the dongle.
What is the length of the Twinkly Icicle?
The lighted drop length of each icicle is 24" with a lighted length of the strand being 196.85"
Can Twinkly Home, Plus, and Pro be grouped together?
No, Twinkly Home, Plus, and Pro cannot be grouped together. Must be similar category to be able to group devices together.
Can Twinkly Home be used outside?
Most Twinkly Home products with an IP rating of IP44 (0 – 50 degrees) or higher can be used outside. Some Twinkly Home products with lower IP rating are for indoor use only.
Should I go with Home or Pro products?
It depends on the budget amount you have allocated for the project and how many controllers are needed for the display you are trying to achieve.
What is the difference between RGB and RGBW?
Both RGB and RGBW can do a white light however, RGBW has a diode that is specifically made to be a warm white color.
How long is the cable connected to the controller?
33" from plug to controller and 12" from controller to port end where you plug in lights
Can I run these lights on a laptop?
No, these lights require an IOS device, iPad, iPhone, iPod
I have an old iPhone will it work with these devices?
As long as the software is on 12.0 and higher, the device will run the lights via the Twinkly App
Do I have to install the Twinkly App?
Yes, this requires the Twinkly App.
What is a lead length?
The lead length is the amount of wire you have from the controller to the first bulb.
Can I cut these lights to size?
No, these lights cannot be cut.
Can I connect the music dongle to an FM transmitter?
No, you cannot connect the music dongle to a FM transmitter.
Is the app Android Compatible?
Some Twinkly Home products (not Plus or Pro) are compatible with some Android devices; however, the software must be Android 6 or later, and it's still liable to be finicky as it is not compatible on all Android devices. We recommend IOS devices for the best results.
How many lights do I need for….?
We suggest giving us a call at 800.391.5280 and speaking with one of our product specialists to assist you in your purchase. We will need measurements of the display you are trying to decorate so that we can give you the most accurate estimation.
What happens if a light stops working/what is the warranty?
Christmas Designers' Twinkly lights and controllers come with a 1-year warranty. https://www.christmasdesigners.com/christmas-designers-warranty-policy